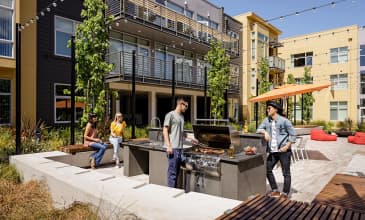 Yes, but it might cost more than ever before. Oddly, with the decades of talk surrounding Vancouver's place in a major earthquake zone, it's taken until this year for insurance companies to start raising prices on their premiums and deductibles. Quite unfortunately, these costs are coming quickly and rather unexpectedly, which is prohibiting some less-prepared stratas from even securing or renewing insurance, which is turn is disastrous for sellers or potential buyers. No insurance = no mortgage approvals = less buyers, or none. 
What does it mean? One result could be the tightening of bylaws surrounding smoking, BBQs, rentals etc - essentially anything that could elevate risk of damage to a building. Another result could be strata corporations elevating their record-keeping and maintenance/repair management, which certainly wouldn't be a bad thing. 
For the consumer? An elevated need to consult closely with your insurance broker, and to understand what's happening in your strata, or the one you're about to buy into. The last thing you want is for the strata corporation's damage deductible to go from $10,000 to $100,000 (or more, as in some cases) and then you be on the hook for that $$$ if your washing machine hose blows and floods the 12 floors below you. 
As with most things, when common sense is applied and things are managed or prepared for appropriately, it's likely that disaster is avoidable, but more than ever before, it's something to take very seriously.
You can read more about it here
, namely how it's not just limited to BC, or even Canada.